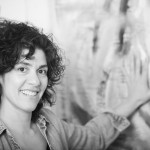 Artist, Jessica Ifshin, was born and raised in the Bronx, New York. After being dragged to all of New York City's museums year after year, she soon realized that she was undeniably a part of something greater than herself – art.
She attended the performing, visual, and liberal arts college State University of New York at Purchase in Purchase, New York where she began her formal study of the arts. After graduating, she went on a two month backpacking tour of cathedrals, churches, and institutions of art in Poland, Hungary, and what was at the time the U.S.S.R. and Czechoslovakia. It was at this point that Jessica realized that art is an expression of something sacred that evolves from the depths of ones' soul and is, therefore, a physical manifestation of the relationship between humanity and divinity. Upon returning to the States, Ms. Ifshin relocated to the West Coast, and lived in San Francisco for several years before moving to San Diego.
While studying East Asian medicine in San Diego, Jessica became fascinated by the similarities between the movement of "qi" (vital life force, pronounced 'chee') in the body's energetic meridians, the flowing nature of paint, and the shifts of energies and emotions that colors are capable of conveying when blended.
Ms. Ifshin's position as: "Acupuncturist on Staff" at New Milford Hospital in Connecticut (working primarily in the Diebold Family Cancer Center with oncology patients) brought her back to the East Coast in 2010. Currently, in addition to her color work, she maintains a thriving private practice in New Milford, CT.
Ms. Ifshin is keenly aware of the natural progression in her work as she herself evolves. She refers to her "style" as color work: "the exploration of color synergy which expresses the fluidity of movement and the dynamic intensity of emotions."
When Jessica is not painting or treating patients, she finds pleasure in knitting, photography, exploring the NY/CT area, yoga, cooking, and traveling.
~namaste'~